Wood Restoration and Deck Cleaning New Jersey
 Make your deck the best part of your property! Parkway Powerwash delivers the deck cleaning solution you need to maximize the potential of your outdoor space. With our professional service, your deck will be ready for every backyard barbecue to come.
Your Deck Cleaning Experts
We expect a lot from our deck. We want it to be a go-to destination, and we want it to be safe and welcoming. But here's the problem: our decks are exposed to the great outdoors 24/7/365. And this takes a serious toll on its "wear and tear" factor.
Parkway Powerwash can help. Our team delivers a professional power washing solution that will get your deck back on track. We use advanced pressure washing equipment and a blend of special cleaning products to:
Kill mold and algae buildup
Your deck is a hotspot for organic growth. We tap into cleaning products that actually kill spore growth, so the issue won't resurface.
Remove dirt and eyesores
Our cleaning technology is primed to remove all unwanted debris from your deck, so you can enjoy a smooth and flawless surface.
Improve deck safety
Mold, dirt, and other buildup create a slick layer on your deck, and the result is a serious risk for slip and fall accidents. We get rid of that hazard.
Lengthen the lifetime of your deck
With routine deck cleaning, the surface will look a whole lot better - but it will also last a whole lot longer.
Make Your Deck a Magnet for Curb Appeal
With a deck cleaning service from Parkway Powerwash, your exterior will be as beautiful as it is functional. We balance your need for a ready-to-use space and a beautiful one, and we do it with power washing. Invest in a high-quality service and results that last - and bring on the outdoor time!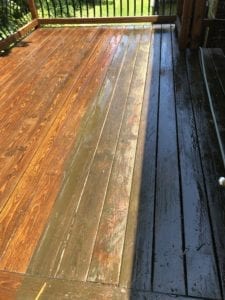 Got a wood deck? If so, you know just how beautiful they can be and how comfortable they can be during the summertime – and just how much maintenance is required. That's where the professionals at Parkway Powerwash come in. With Parkway Powerwash, you get the boost to the "curb appeal" of your home and…