House Washing: The Most Important Maintenance You're Probably Not Doing!
Your home is your castle. It's probably your most valuable investment. It only makes sense to be diligent about maintaining it so it makes you proud and retains its value. One of the most neglected home maintenance projects is cleaning a home's siding. That's unfortunate because a home's siding is the most noticeable part of your home's exterior.
If you're concerned about curb appeal, you need to keep your siding clean. Not only is your home's appearance a reflection on you, but it is also one of the biggest factors in attracting buyers if you ever decide to sell your home. At Parkway Power Wash, we're your house-washing specialists!
Houses Need to be Washed Because They Get Dirty
Like everything else that is subjected to the elements, houses get dirty. They accumulate pollen, dirt, bird droppings, cobwebs, and dead insects. Mold and mildew grow on some surfaces. They become filthy and discolored. If you go outside right now and slide your finger across a panel of siding, you'll see just how dirty it is.
We Specialize in House Washing
Our soft washing service will transform the appearance of your home's exterior. In some cases, the before and after difference in our customers' homes is so extreme that their newly washed homes look like they have been freshly painted.
At Parkway Power Wash, we have the expertise, experience, and top-of-the-line equipment to soft wash your home. Unlike pressure washing, soft washing effectively removes built-up grime, stains, and residue without damaging your home's exterior. It's important that the provider you choose to wash your home's siding understands the difference between soft washing and pressure washing, and has the equipment to perform both. Your home is in good hands with Parkway Power Wash, because we absolutely do.
Ready to Refresh Your Siding?
If you haven't had your home's siding cleaned in a long time (or ever), contact us at Parkway Power Wash. You won't realize how dirty your siding was until you see how vivid and clean it looks after we soft wash it. When you do, we guarantee you'll want to have this service performed annually if not more frequently! Our 100% complete satisfaction guarantee ensures you'll love the results you see from our soft-wash service.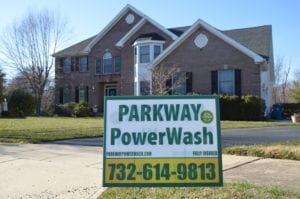 As the summer season starts, it's time to get your house looking its best for the sunshine – and that's where Parkway House Washing comes in. New Jersey residents know how the damage the colder seasons can do to houses! The winter and spring months deliver a large dose of grime and dirt to homes…